Our Founder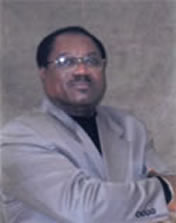 Apostle George D. Hamilton earned a Bachelor of Arts Degree from Allen University and a Bachelor of Divinity Degree from Dickerson Theological Seminary at Allen University, Columbia, SC; a Master Degree in Public Administration (M.P.A.) from the University of South Carolina, Columbia, S. C.  He also received a Master and Doctorate Degrees (M.Th and Th.D) in Theology from Gulf Coast Theological Seminary, Panama City, FL.  He was ordained an Elder in the African Methodist Episcopal Church in September of 1967 and pastored several AME churches.
He has served in many political positions, such as, Vice Chairman of the Walterboro City Planning Board, Chairman of the Colleton County School Board of Education, a member of the S. C. Advisory Commission on Workman's Compensation, a member from the First Congressional District on the S. C. Department of Social Services.
In 1970, he was appointed Administrative Assistant to Governor John West and became one of the first Blacks in S. C. to serve on the Southern Governor's staff.
In 1972, he became the first Black in S. C. to head a major state agency by becoming the first Commissioner for the South Carolina Human Affairs Commission. He has received many honors and awards. To name just a few: (1) in 1968, he received the "National Service Rural Award" for his service to Rural America; (2) in 1968, he received the "National Urban Coalition Award" from the White House (A President 's Award); (3) in 1968, he was selected to appear in the 1969 edition of "Ten Outstanding Young Men of America;" (4) in 1970, he received the "Order of the Palmetto Award" (the highest citizen award given in South Carolina by a Governor); (5) in 1973, he was selected to appear in the 1974 edition of "Personalities of the South;" (6) in July of 2006, he was selected as "Who's Who in America" by The Heritage Registry. (7) in 2006, he received a NAACP leadership award for his civil rights activities. Also in recent years, he has received several awards for being selected as "Outstanding Businessman of America."
Apostle Hamilton continued to work in politics and pastoring until God called him out in September, 1988 to establish W.O.R.D. (World Outreach Revival and Deliverance) Ministries Christian Center. God gave him "A Vision" of bringing together believers from various denominations into a pre-raptured ministry of prophetic teaching and preaching.
He is the author of several Christian books that have received national and international recognition. He is founder and Chancellor of Rhema Bible College, a 4-year accredited college, with a campus in Durban, South Africa.
Apostle Hamilton is founder and Headmaster of Rhema Christian and Military Academy, Summerville, S. C. He also serves as a Chaplain for Colleton County Sheriff Department. He is married to the former Margarine Stephens and they have one son, George Drummond, II, who is married to the former Dr. Charlotte Redden and they have two daughters, Gabriella and Camille.